A tasty drink is like the cherry on top of a delicious meal, and Easter brunch is no exception! There are so many great drinks you can choose for brunch, both alcoholic and non-alcoholic, that feature the refreshing flavors of spring. Our pick to impress your guests is the Strawberry Moscow Mule. It's easy to make, gives a springtime twist to the traditional cocktail and is best served in a mason jar!
Garnish with more strawberries and add limes for a little tartness. Because nothing says spring like fresh fruit, right?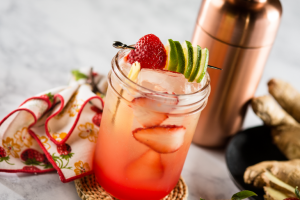 Ingredients:
– 1 oz (30 ml) Master of Mixes Strawberry Daiquiri/Margarita Mixer
– 3 oz (90 ml) Master of Mixes Margarita Mixer
– 1 oz (30 ml) vodka
– Ginger beer
Directions:
– Combine first three ingredients in a mixing glass filled with ice.
– Shake and strain into a tall mason jar filled with ice.
– Top with ginger beer.
– Garnish with fresh strawberries and a lime wedge.
Cheers!
Looking for more Springtime cocktail recipes? Try these: